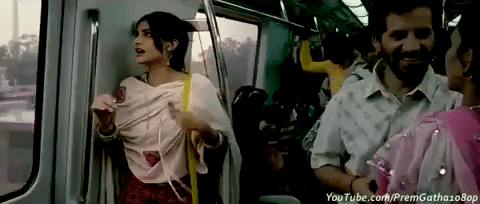 This series has tried to examine the role of the train as an iconographic component in the lexicon of Indian cinema, pausing to analyse sequences to detail the aesthetic and thematic significance of the train. Hutchings (1995: 69) argues 'a film genre's outer form was its iconography and its inner form its thematic identity'. If we interpret thematic identity as ideology and having surveyed the visual image of the train through Indian cinema, one of the first conclusions we can draw is that both the outer and inner form are in a constant dialogue with each other and it is impossible to separate them; iconography informs ideology and vice versa. Furthermore, the recurrence of the train through so many genres and cinemas does so in accordance with other readily identifiable visual elements (song and dance) offering an iconographic unity to the aesthetic structure of Indian films.
This shared visual grammar amongst Indian film directors and unspoken iconographic understanding challenges yet again the totality of auteurism. Still, it could be argued that since the train has never been specific to any single genre in Indian cinema, 'the emergence of genre cinema' (Vasudevan, 2011: 387) in recent years has inevitably meant the train as an iconographic component inherent to Indian narrative cinema could eventually disappear. Vasudevan (2011: 387) uses the example of director Ram Gopal Varma as epitomising this new genre sensibility, 'reproducing a Hollywood standard of narrative integration, character-driven, and point of view storytelling'. Varma has worked in both the horror and gangster film genres with a Hollywood like approach to narrative and thematic choices.
Another decidedly patent discovery is the way the train has evolved over time as a narrative, thematic and ideological element 'marked fundamentally by difference, variation and change' (Neale, 1990: 56), representative of the way film genres function, extending the repertoire 'by adding a new element or by transgressing one of the old ones' (Neale, 1990: 56). Creative modernism has been key to the constancy of the train in Indian cinema. Filmmakers have always sought out new ways of visualising the train, thus feeding into what Steve Neale (1990: 46) calls 'systems of expectation and hypothesis which spectators bring with them to the cinema'. Neale's argument on the expectations engendered by film genres is an important one and although this series has not afforded me the opportunity to consider the role of the audience in relation to the train my final point towards the end of this conclusion will briefly outline potential audience research that could be undertaken to develop this study further.
I want to conclude, considering rapid transport in India, focusing on the Delhi Metro, which has the potential to challenge the train as a new site of urban ideological exchange for Indian cinema. The Delhi Metro began operating in 2002, offering Delhi a contemporary urban identity and Indian cinema a fresh new filmic space. The Delhi Metro has featured in a number of mainstream Hindi films including Paa (Father, 2009), Love Aaj Kal (Love Nowadays, 2009), Dev D (2009) and Delhi 6 (2009). In the cultural geography of spaces and places (see: Marc Auge, 1995) the Metro could be deemed a 'non-place', since it 'cannot be defined as relational, historical and concerned with identity' (Auge, 1995: 77) unlike the train. Auge argues 'supermodernity produces non-places' (Auge, 1995: 78) such as hospitals, holiday clubs, supermarkets that are about 'the temporary and ephemeral' (Auge, 1995: 78). The Delhi Metro as new filmic mise-en-scene connotes a sanitised, controlled space, in stark contrast to the intimacy, noise and disorder of the train.
Simultaneously the Delhi Metro has been interpreted as a space of gender liberation. Here I want to bring in the ethnographic view of the Delhi Metro by Rashmi Sadana in which sees looks specifically at space as ideology. Sadana (2010: 82) says the 'gender neutrality' on the Metro makes it 'a safe space for women' and links her study to recent Indian films. In Delhi 6, Bittoo (Sonam Kapoor), a young Muslim girl, 'trying to forge her own identity' (2010: 82) is 'framed by her going into and out of metro stations' (2010: 82) in which 'she sheds her salwar-kameez for belly button revealing tight tops' (2010: 82). This refutes Auge's argument about the Metro as a non-place, offering a cultural space for Bittoo to create a new identity while transgressing traditional gender expectations. In many ways, it is the newness of the Delhi Metro that has attracted Indian cinema, offering an image of a super modern, technologically advanced India that runs contrary to the old, polluting and archaic image of the ubiquitous train. It is unlikely that the Delhi Metro represents a threat to the iconography of the train but it does offer filmmakers with new possibilities with which to stage songs, action and romance.
Film genre as an academic discipline still leads to an 'unduly prescriptive form of criticism' (Ryall, 1978: 24) particularly when films are determined by thematic content. The iconographic interpretation of the visual culture of Indian films by film audiences is a question that remains unanswered in the context of this study. What role does the audience play in determining genre? What expectations are provoked when a train appears on screen? In many ways, the audience is intrinsic to the way genres function and the pleasures they offer. More research into the way audiences use Indian film genres would be useful here in answering significant questions about 'whether the image has a meaning which is independent of the director's use of it' (Ryall, 1978: 32). Perhaps the most appropriate way of situating the duality of the train as an iconographic and ideological visual element of Indian cinema is through viewing genres as 'patterns/forms/styles/ structures which transcend individual films, and which supervise both their construction by the filmmaker and their reading by an audience' (Ryall, 1975: 27 – 28).
The train is one of many patterns, images and iconography present in the visual grammar of Indian cinema. Film genres are still defined on thematic and ideological lines. Then in the context of Indian cinema especially popular Hindi cinema that communicates with audiences in predominantly visual terms, the significance of Panofsky's iconology becomes even more salient as 'it emphasized the visual motifs and symbolic language of art rather than individual or mythic narrative' (Flint, 2004: 32). If anything, the train is an enduring image in Indian culture, which films have used to narrate, negotiate and contest cultural, national and personal ideologies 'that provide both familiarity and variety' (Flint, 2004: 32-33) for audiences.
Bibliography
Aguiar, M. (2011), Tracking Modernity: India's Railway and the Culture of Industry, Minnesota: University of Minnesota Press
Ali, T. (1985), The Nehrus and the Gandhis: An Indian Dynasty, London: Picador
Alloway, L. (1963), Lawrence Alloway on the Iconography of the Movies, Movie 7, 1963, 5.
Anderson, B. (1983), Imagined Communities, London & New York: Verso
Altman, R. (1999), Film/Genre, London: BFI
Auge, M. (2009), Non Places: An Introduction to Supermodernity, London & New York, Verso
Bhattacharjya, Nilanjana, Popular Hindi Film Song Sequences Set in the Indian Diaspora and the Negotiating of Indian Identity, Asian Music, Volume 40, Number 1, Winter/Spring 2009, pp. 53-82, University of Texas Press
Booth, Gregory D. (1995), Traditional Content and Narrative Structure in the Hindi Commercial Cinema, Asian Folklore Studies, Vol. 54, No. 2, pp. 169-190
Bordwell, D., Staiger, J., Thompson, K. (1985), The Classical Hollywood Cinema, London: Routledge
Buscombe E. (1970), The Idea of Genre in the American Cinema, Screen Vol. 11 No 2, March/April 1970, pp. 33-45
Cardullo, B. (ed.) (2007), Satyajit Ray Interviews, Jackson: University Press of Mississippi
Chakravarty, S. (1993), National Identity in Indian Popular Cinema: 1947 – 1987, Austin: University of Texas Press
Cook, P. (ed.) (2008), The Cinema Book, London: BFI Publishing
Cousins, Mark (2011), The Story of Film, London: Pavillion
Daiya, K. (2008), Violent Belongings: Partition, Gender and Postcolonialism in India, Philadelphia: Temple University Press
Das Gupta, C. (1994), The Cinema of Satyajit Ray, New Delhi: National Book Trust
Dudrah, R. (2006), Bollywood: Sociology goes to the Movies, London: Sage
Dudrah, R. and Desai, J. (ed.) (2008), The Bollywood Reader, London & New York: Open University Press & McGraw-Hill Education
Dwyer, R. and Patel, D. (2002), Cinema India: The Visual Culture of Hindi Film, London: Reaktion Books
Dwyer, R. and Pinto, J. (ed.) (2011), Beyond the Boundaries of Bollywood: The Many Forms of Hindi Cinema, New Delhi: Oxford University Press
Ganti, Tejaswini (2004), Bollywood: a guidebook to Popular Hindi Cinema, London
& New York: Routledge
Ghoshray, Saby (2007), Repatriation of the Kohinoor Diamond:Expanding the Legal Paradigm for Cultural Heritage, Fordham International Law Journal Volume 31, Issue 3 2007 Article 6
Gokulsing, M. and Dissanayake, W. (2004), Indian Popular Cinema: A narrative of
Cultural Change, Trentham Publishing
Gopalan, L. (ed.) (2009), The Cinema of India, London: Wallflower Press
Gopalan, L. (2002), Cinema of Interruptions: Action Genres in Contemporary Indian Cinema, London: BFI Publishing
Grant, Barry Keith (2003), Film Genre Reader III, Austin: University of Texas Press
Grant, Barry Keith (2007), Film Genre: From Iconography to Ideology, London & New York: Wallflower
Hogan, P. C. (2008), Understanding Indian Movies: Culture, Cognition and Cinematic Imagination, Austin: University of Texas Press
Hollows, J. and Jancovich, M. (ed.) (1995), Approaches to Popular Film, Manchester: Manchester University Press
Kapur, Geeta (1987) Mythic Material in Indian Cinema, Journal of Arts and Ideas 14-15, pp. 79 – 107
Kirby, L. (1997), Parallel Tracks: The Railroad and Silent Cinema, Devon: University of Exeter Press
Lal, V. and Nandy, A. (ed.) (2006), Fingerprinting Popular Culture: The Mythic and Iconic in Indian Cinema, New Delhi: Oxford University Press
Leppla, Dominic, The Romance of Steam, BFI Screenonline
http://www.screenonline.org.uk/film/id/1308308/index.html (accessed 21 August 2014)
Major, Andrew J. (1995), 'The Chief Sufferers': Abduction of Women During the Partition of the Punjab, South Asia, Vol. XVIII, Special Issue, pp. 57-72
McArthur, C. (1969), Genre and Iconography, London: BFI
McArthur, C. (1972), Underworld U.S.A, London: BFI
Miller, T. and Stam, R. (2004), A Companion to Film Theory, Oxford: Blackwell (Chapter 3, Genre, by Sarah Berry-Flint, pp. 25 – 44)
Mirzoeff, N. (ed.) (1998), The Visual Culture Reader, London & New York: Routledge
Mishra, Vijay (2002), Bollywood Cinema: Temples of Desire, New York/London:
Routledge
Neale, S. (2000), Genre and Hollywood, London & New York: Routledge
Neale, S. (1990), Questions of Genre, Screen 31, No 1 (Spring), pp. 45-66
Nock, O. S. (1978), Railways of the World 5: Railways of Asia and the Far East, London: Adam and Charles Black
Pandey, G. (2004), Remembering Partition: Violence, Nationalism and History in India, Cambridge: Cambridge University Press
Pauwels, H. (ed.) (2008), Indian Literature and Popular Cinema, London & New York: Routledge
Panofsky, E. (1939), Studies in Iconology, London: Oxford University Press
Prasad, M. Madhava (1998), Ideology of the Hindi Film: A Historical Construction,
New Delhi: Oxford University Press
Raghavendra, M. K. (2009), 50 Indian Film Classics, Nodia: Collins
Rajadhyaksha, A. (2009) Indian cinema in the Time of Celluloid: from Bollywood to the Emergency, New Delhi: Tulika Books
Ray, S. (1985), The Apu Trilogy: Original Screenplays, Calcutta: Seagull Books
Robinson, A. (2004), Satyajit Ray: The Inner Eye, London: I. B. Tauris
Robinson, A. (2011), The Apu Trilogy: Satyajit Ray and the Making of an Epic, I. B. Tauris, New York: I. B. Tauris
Ryall, T. (1978), The Gangster Guide, London: BFI
Ryall, T. (1975), Teaching Through Genre, Screen Education 17 (Winter 1975/76)
Sadana, Rashmi (2010), On the Delhi Metro: An Ethnographic View, Economic & Political Weekly November 13, Vol. XLV No. 46
Sandhu, S. S. (2006), Maharaja Duleep Singh: The King in Exile, Chandigarh: Institute of Sikh Studies
Sarkar, B. (2009), Mourning the Nation: Indian Cinema in the Wake of Partition, Durham & London: Duke University Press
Schatz, T. (1981), Hollywood Genres: Formulas, Filmmaking, and the Studio System, New York: Random House
Seton, M. (2003 Revised), Portrait of a Director: Satyajit Ray, Penguin Books India
Sinha, Suvadip (2012) Return of the native: Swades and the re-thinking of diaspora, South Asian Popular Culture, 10:2, 185-196
Stewart, Jez, Travelogues, BFI Screenonline
http://www.screenonline.org.uk/film/id/1321388/ (accessed 21 August 2014)
Tan, T. Y. and Kudaisya, G. (2000), The Aftermath of Partition in South Asia, London & New York: Routledge
Thomas, R. (1985), Indian Cinema: Pleasures and Popularity, Screen, 26: 3, pp. 116 – 132
Vasudevan, Ravi (2010), The Melodramatic Public: Film Form and Spectatorship in
Indian Cinema, India: Permanent Black
Virdi, J. (2003), The Cinematic Imagination: Indian Popular Films as Social History, NJ: Rutgers University Press
Vitali, V. (2008), Hindi Action Cinema: Industries, Narratives, Bodies, New Delhi: Oxford University Press
Filmography (films appear in the order cited in the text)
Sattawis Down / 27 Down (Awtar Krishna Paul, 1974)
Chennai Express (Rohit Shetty, 2013)
Meghe Dhaka Tara / The Cloud Capped Star (Ritwik Ghatak, 1960)
Yaadon Ki Baraat / Procession of Memories (Nasir Hussain, 1973)
Aradhana / Worship (Shakti Samanta, 1969)
Satya / Truth (Ram Gopal Varma, 1998)
Company (Ram Gopal Varma, 2002)
Sarkar / Government (Ram Gopal Varma, 2005)
Ab Tak Chhappan / So far fifty six (Shimit Amin, 2004)
Kaminey / Scoundrels (Vishal Bhardwaj, 2009)
D (Vishram Sawant, 2005)
Black Friday (Anurag Kashyap, 2004)
Dilwale Dulhania Le Jayenge / The Brave Hearted Will Take Away the Bride (Aditya Chopra, 1995)
The Avengers (Joss Whedon, 2012)
A Kiss in the Tunnel (G. A. Smith, 1899)
The Story of Film: An Odyssey (Mark Cousins, 2011)
L'arrivée d'un train en gare de La Ciotat / The Arrival of a Train at La Ciotat Station (Lumieres, 1896)La Roue / The Wheel (Abel Gance, 1923)
Man with a Movie Camera (Dziga Vertov, 1929)
Panorama of Calcutta, India, from the River Ganges (1899)
Jawani Ki Hawa / The Wind of Youth (Franz Osten, 1935)
Vilasi Ishwar / Orphans of the Storm (Master Vinayak, 1935)
Achhut Kanya / The Untouchable Girl (Franz Osten, 1936)
Manzil / Destination (P. C. Barua, 1936)
Miss Frontier Mail (Homi Wadia, 1936)
Sholay / Flames (Ramesh Sippy, 1975)
The Great Train Robbery (Edwin Porter, 1903)
Khotey Sikkay (Narendra Bedi, 1974)
The Burning Train (Ravi Chopra, 1980)
The Towering Inferno (John Guillermin, 1974)
The Lady Vanishes (Alfred Hitchcock, 1938)
Dhoom 2 (Sanjay Gadhvi, 2006)
Solva Saal / Sixteenth Year (Raj Khosla, 1958)
Kala Bazar / Black Market (Vijay Anand, 1960)
Dil Se / From the Heart (Mani Ratnam, 1998)
Baazi / Gamble (Guru Dutt, 1951)
Jaal / Trap (Guru Dutt, 1952)
Taxi Driver (Chetan Anand, 1954)
The Darjeeling Limited (Wes Anderson, 2007)
Barfi (Anurag Basu, 2012)
Parineeta / The Married Woman (Pradeep Sarkar, 2005)
Dabangg (Abhinav Kashyap, 2010)
Brief Encounter (David Lean, 1945)
Letter from an Unknown Woman (Max Ophuls, 1948)
Pather Panchali / Song of the Little Road (Satyajit Ray, 1955)
Aparajito / The Unvanquished (Satyajit Ray, 1956)
Apur Sansar / The World of Apu (Satyajit Ray, 1959)
Abhijan / The Expedition (Satyajit Ray, 1962)
Nayak / The Hero (Satyajit Ray, 1966)
Aag / Fire (Raj Kapoor, 1948)
Lahore (M. L. Anand, 1949)
Chhalia (Manmohan Desai, 1960)
1947: Earth (Deepa Mehta, 1998)
Train to Pakistan (Pamela Rooks, 1998)
Swades / Homeland (Ashutosh Gowariker, 2004)
Ra One (Anubhav Sinha, 2011)
Main Hoon Na / I am Here (Farah Khan, 2004)
Mumbai Meri Jaan / Mumbai My Life (Nishikant Kumar, 2008)
Paa / Father (R. Balki, 2009)
Love Aaj Kal / Love Nowadays (Imtiaz Ali, 2009)
Dev D (Anurag Kashyap, 2009)
Delhi 6 (Rakeysh Omprakash Mehra, 2009)